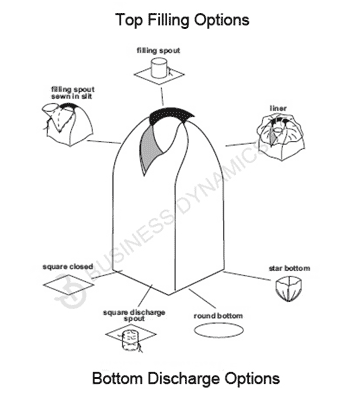 Single loop and two loop FIBCs are used predominantly in agricultural sectors but can also be found in other industries being used to carry powders and minerals. These particular FIBCs have safe working loads ranging from 500kg to 1500kg and Safety Factors of 5:1 or 6:1 for hazardous products such as Ammonium Nitrate and/or others. The bags comply with all the relevant testing requirements of both the European and UN dangerous good requirement.  The Inner liners is usually incorporated in order to give additional moisture protection depending on the product and its application further keeping it both clean and dry.
Single and two loop FIBCs are generally made using tubular/ circular polypropylene fabric (PP). They are less complicated and more economical in comparison to a four loop FIBC. They are commonly accepted as being the most cost effective form of packaging based on a cost-to-weight ratio. These bags are different in construction compared to that of a standard four loop FIBC. The body-fabric of the bag itself is formed into a lifting loop which gives the bag a higher breaking strength and makes the FIBC easier to lift. The top lifting point/s of the bag are generally wrapped with sleeves which can be manufactured in various colours. This is can also help to make identifying different products much easier.
The base design of a single or two loop FIBCs can vary greatly depending on the application. These can include; a flat square base, a Star or a round base.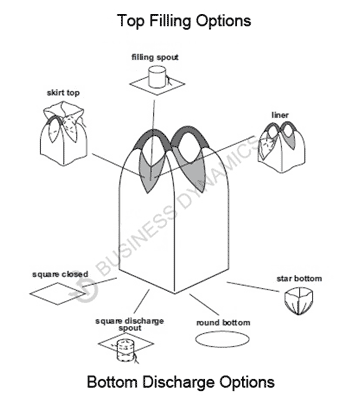 Two Loop bags are generally required when greater access is needed whilst filling the bag. Once the bag has been filled to the required SWL the two loops must then be tied together for lifting as a single loop FIBC. It is also very common for a two loop FIBC to incorporate filling and discharge tubes. When a discharge spout is required then this is usually applied into a flat base design.
We can produce a variety of Single and Two Loop FIBC's. They can be made from:
Coated or Uncoated fabric
Have a safety factor of either  5:1 (single trip) or 6:1 (multi trip)
Be printed in 4 colours
Have a large variety of document pouches and labels.
There are also a range of additional features available when designing single and two loop FIBC's. There are options of having:
A Skirt or Duffle Top
An Inlet filling Spout
A Inner Liner
A Discharge Spout with various closure systems
A Star Base
Different Style and Type of Liners
The Liners produced from Co-Ex, PP, or MC materials - clear or colored
Packing
There are specific baling and packing ways of Single and Two Loop FIBC's. The FIBC's are Pressed Baled and/or Press Baled and Palletized, the packing can be tailor made to suit each customer as required.
Applications
The designs have been widely used globally and by many industries. Some of the main industry's using these bags include;
Agriculture, fertilizer, seed, and animal feed
Building Industry: Cement, Fly-ash, Others
Minerals: Salt, Nickel, Others
Silica sand
Peat and tree bark