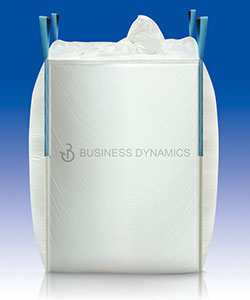 The use of FIBCs has increased enormously throughout manufacturing industries where large quantities of powdered, granular or pelleted materials are handled. Many processes, for which big bags are used, may contain sensitive flammable media such as solvent vapors or dust clouds with low ignition energy.
The fact that these bags which are traditionally manufactured from woven polypropylene can generate high levels of static electricity when filling and discharging, we at Business Dynamics provide bags which are inherently antistatic and conductive in nature.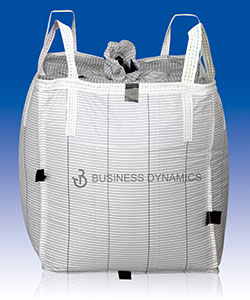 Business Dynamics Bags can provide you with 2 types of such bulk bags " Type B and C ".
• Selection of B or C Type of Conductive Bags
depends entirely on the risk involved
• Type-B Antistatic bags constructed using special
anti-static masterbatch.
• Type-C bags are made of specially designed Conductive fabrics with interwoven conductive
yarns/ tapes which are woven into the fabric
• Groundable FIBC with grounding tabs, to be earthed in order to dissipate the static electricity
built up from Big Bag to the ground.
Every conductive bag of Business Dynamics is 100 % checked and labeled for its conductivity.
We can Customize and Design any form of FIBC that may be relevant to your particular Product or Industry.
Different Loops are:
| | | | |
| --- | --- | --- | --- |
| | | | |
| Corner Loop / Side Seam Loop | Cross Corner Loop | Tunnel / Sleeve Lift Loop | Hood Lift Bag / Two Lifting Strap / Loop |
| | | | |
| | | | |
| Ancillary Loop | Single Stevedore Strap / Loop | Double Stevedore Strap / Loop | |
Optional Features for TOP Filling and Closure:
| | | |
| --- | --- | --- |
| | | |
| Open Top with Hem | Tie-Down Flap | Duffle Top |
| | | |
| | | |
| Open Top & Tightening Holes | Open Top with Draw Cord | Filling Spout |
Optional Feature for Bottom Discharge:
| | | | |
| --- | --- | --- | --- |
| | | | |
| Discharge Spout | Discharge Spout with Iris Protection | Discharge Spout with Petal Closure | Discharge Spout with Sewn Cover |
| | | | |
| | | | |
| Discharge Spout with Protection Flap | Full Drop Bottom | Double Stevedore Strap Bag Quick Discharge / Conical Base | |
Different Style and Type of Liners
The Liners produced from Co-Ex, PP, or MC materials - clear or colored