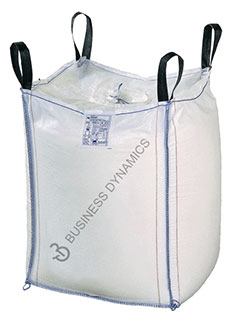 Flexible Intermediate Bulk Containers (FIBC) available in national as well as international markets is designed to carry material that is 1000 times of its own weight. Its usage can reduce freight costs, warehousing costs and your handling costs with flexible packaging options. These bags can easily be lifted as these have integral lifting loops attached to itself, hence no need for pallets. Most unique feature of FIBC is their capability to carry and transport hazardous chemicals over long distances. Some of the most convincing features can be:
• These can carry large quantities of products
• FIBC bulk bags are simple to use and are Cost effective
• These containers are very strong yet flexible
• Buy Bulk Bags as they offer a low unit cost
• These are available in variety of dimensions
• Variety of filling, discharging and lifting facilities
We Business Dynamics are one of the leading suppliers of FIBC bags from India. These cost effective container solutions are made available in form of Flexible Intermediate Bulk Containers (FIBC). These bulk bags find application for bulk packaging where they help in reduction of –
• Freight costs
• Warehousing costs
• Handling costs
• Provide flexible packaging options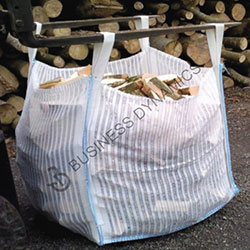 Advantages of Flexible Intermediate Bulk Container (FIBC)
Some of the major advantages of these FIBC bulk bags include:
• Simple to use
• Extremely Cost Effective Tantamounting to Low Unit Cost
• Strong Yet Very Flexible and can carry upto 1000 times its own weight
• They have integral lifting loops, thus eliminating need for pallets
• Easy and Fast Filling Bulk Quantities
• Ease of Discharging Bulk Quantities
• Efficient use of space
• Easy Identifiable Printing During Transportation
• The bags can be supplied in variety of dimensions
• The FIBC bulk containers can be supplied with various options in filling, discharging and lifting of the bags
• The use of these bags do not require any need of further packaging
• The bags are designed to be lifted from top by means of integral and permanently attached devices such as (lift 
loops or straps)
FIBC Types and Styles
As a flexible intermediate bulk container, it is a standardized container in large dimensions and successfully meets the demands of storing as well as transporting of Dry, flow able and liquid products.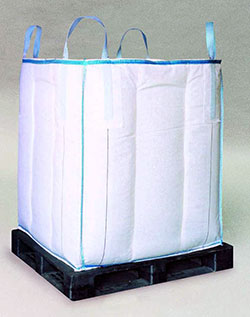 Construction:
These are made available in different type of construction finishes including:
• U-Panel construction
• Circular/Tubular construction
• Baffle construction
• Four side panel construction
• Round construction
 Further, these are available in different lifting options including:
• Cross corner lifting loops
• Corner lifting loops
• Four loops
• Two loops
• Sling loops
• Full loops
We are able to tailor design and make any form of FIBC that may be relevant to your particular industry and product.