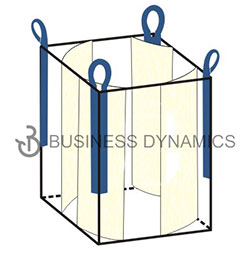 The "Q bag / Baffle Bag"  design is constructed by sewing inner baffles across the four corners of the FIBC Bag. These baffles are manufactured specifically to allow the material to flow into the corners of the bag, they prevent the sides from bulging out or the bag from falling over when being stored or transported thus giving bag the sturdiness and straight shape.
Benefits of Q Bag / Baffle Bag
• Ability to fill 30% more material per bag as compared to the standard FIBC because
of uniform material flow to all four corners
• Reduced spillage and better usage and optimization of the available storage space
• Directly impacts the Transportation cost due to the ability to fill more
material in bag.
• Improved stacking in the warehouse makes it look neater and improves overall
aesthetical appeal
• Remains within the Pallet dimensions when filled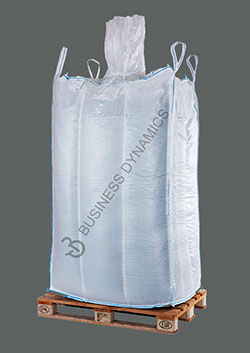 There are many different options to choose from.
Some of the Options are:
• Coated or Uncoated fabric
• Generally have a safety factor of either  5:1 (single trip) or 6:1 (multi trip)
• Can have Conductive or Anti-Static properties
• Can be made with Sift proof seams which prevents any leakage of fine product from the seams of the FIBC
• Multicolour printing options on 4 sides or 2 sides
• Pouch for Documents and Labels
Apart from the above there are different options for Loop, Top Filling and Bottom Discharge.
We can Customize and Design any form of FIBC that may be relevant to your particular Product or Industry.
Different Loops are:
| | | | |
| --- | --- | --- | --- |
| | | | |
| Corner Loop / Side Seam Loop | Cross Corner Loop | Tunnel / Sleeve Lift Loop | Hood Lift Bag / Two Lifting Strap / Loop |
| | | | |
| | | | |
| Ancillary Loop | Single Stevedore Strap / Loop | Double Stevedore Strap / Loop | |
Optional Features for TOP Filling and Closure:
| | | |
| --- | --- | --- |
| | | |
| Open Top with Hem | Tie-Down Flap | Duffle Top |
| | | |
| | | |
| Open Top & Tightening Holes | Open Top with Draw Cord | Filling Spout |
Optional Feature for Bottom Discharge:
| | | | |
| --- | --- | --- | --- |
| | | | |
| Discharge Spout | Discharge Spout with Iris Protection | Discharge Spout with Petal Closure | Discharge Spout with Sewn Cover |
| | | | |
| | | | |
| Discharge Spout with Protection Flap | Full Drop Bottom | Double Stevedore Strap Bag Quick Discharge / Conical Base | |
Different Style and Type of Liners
The Liners produced from Co-Ex, PP, or MC materials - clear or colored