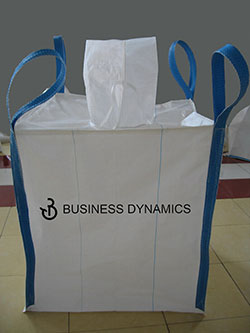 FIBC's (Flexible Intermediate Bulk Containers) are a flexible and very strong means of packaging made especially for the use of storage and transportation of many various types of bulk products. There are many different examples of such products which vary depending on the industry they are needed in. Examples include Powders, granules, flakes aggregates, plus many, many more.
FIBC's can be produced from two types of Polypropylene woven fabric, Tubular/  Circular or Flat. These fabrics can be coated or uncoated and the weight can vary depending upon the Safe Working Load (SWL), or Safety Factor (SF) required. An FIBC can be as simple as a standard aggregate bag, having a flat base and open top to a Food Grade bag, produced within a clean room environment to be used within the food and pharmaceutical industry.
A traditional FIBC has four Layflat loops and is the most common. The design of this type of bag has been utilised in every different industry possible all over the world.
A four loop FIBC has different characteristics to that of a single and two loop FIBC. The four loops are fixed to the body of the fabric by two types of sewing, over-lock and chain stitching. This ensures that the side panels and loops remain intact when being filled or lifted.
We also produce a wide range of bags Cross Corner Loops. These loops span across the corner of the FIBC which gives many advantages over a more traditional FIBC with Layflat loops. These loops are attached and fixed to the body of the fabric with a lock stitch securing the webbing to the FIBC.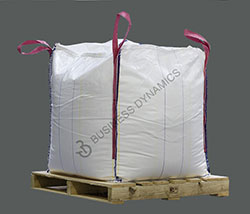 Cross Corner loops are generally made from much stiffer webbing and can, if necessary, be reinforced so that they remain erect giving a fork lift operative a clear sight when approaching in order to lift the back. This quite often allows for speedier handling and maneuvering process due to the tines being able to go straight through the loops unassisted.
There are many different options to choose from when designing a FIBC for a particular product or industry.
Some Available Options are:
Coated or Uncoated fabric
Generally have a safety factor of either  5:1 (single trip) or 6:1 (multi trip)
UN-approved with a safety factor of 6:1
Can have Conductive or Anti-Static properties
Can be made with Sift proof seams which prevents any leakage of fine product from the seams of the FIBC
Multicolour printing options on 4 sides or 2 sides
Pouch for Documents and Labels
We can Customize and Design any form of FIBC that may be relevant to your particular Product or Industry.
Different Loops are:
| | | | |
| --- | --- | --- | --- |
| | | | |
| Corner Loop / Side Seam Loop | Cross Corner Loop | Tunnel / Sleeve Lift Loop | Hood Lift Bag / Two Lifting Strap / Loop |
| | | | |
| | | | |
| Ancillary Loop | Single Stevedore Strap / Loop | Double Stevedore Strap / Loop | |
Optional Features for TOP Filling and Closure:
| | | |
| --- | --- | --- |
| | | |
| Open Top with Hem | Tie-Down Flap | Duffle Top |
| | | |
| | | |
| Open Top & Tightening Holes | Open Top with Draw Cord | Filling Spout |
Optional Feature for Bottom Discharge:
| | | | |
| --- | --- | --- | --- |
| | | | |
| Discharge Spout | Discharge Spout with Iris Protection | Discharge Spout with Petal Closure | Discharge Spout with Sewn Cover |
| | | | |
| | | | |
| Discharge Spout with Protection Flap | Full Drop Bottom | Double Stevedore Strap Bag Quick Discharge / Conical Base | |
Different Style and Type of Liners
The Liners produced from Co-Ex, PP, or MC materials - clear or colored