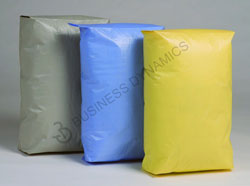 AD*STAR® or more commonly known as block bottom sacks/bags are one of the finest tear/break resistant bags. The bags are also known as block bottom bags and are adhesive-free made by special heat welding process. The bags are made from coated polypropylene fabric – patented worldwide by Starlinger.
The sack / bag are produced one-layer block bottom valve bags or as an open mouth bags with a block bottom as be the requirement of packaging of product. They can be used for manual filling or on automatic filling and sealing machines in the production line.
It exhibits high strength, water & weather resistant, withstands rough handling, tear resistant, varying air-permeability and are well suited for pallet storage with the brick-shape packed sack. These bags are versatile, recyclable, eco-friendly and economical.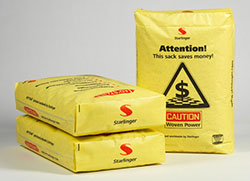 Due to the material characteristics and the special production process, the weight of an average 50 kg AD*STAR® cement sack can be as low as 75g which is comparable to a 3-layer paper bag of 180 g and a PE-film bag of 150g. The result in comparison contributes to the preservation of our environment and a low cost per bag for the user.
The AD*STAR® bag can be used for all types of free-flowing goods such as cement, building materials, fertilizer, chemicals, or resin as well as flour, sugar, or animal feed.
It is also possible to laminate high quality printed BOPP film to the fabric. This innovative technique puts AD*STAR® on the map in the consumer bag sector – a range with enormous potential especially in industrial countries.