Our PP Woven Fabric (Polypropylene Fabric) are strong, dependable and economical packaging option for diverse industries. These fabrics are light in weight and can be made in various deniers and GSM. The fabrics are available in roll form and cut-to-size sheets.
We have the latest plant and machinery and the flexibility of producing fabrics as per the needs of the customer. Hence we are able to carter to the ever changing and growing need of the customer.
We produce unlaminated and laminated rolls in different size, deniers, colors and mesh weaves. They are manufactured using quality polypropylene material and are known for their features like tensile strength, low elongations, dimensional stability , wear resistance and protective covering .
The fabrics are used in many industries for their packaging use, coverings and product wrappings and many other applications. The fabrics are flat or in tubular form and some of the uses are;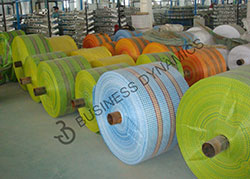 PP Woven Bag of assorted kinds
AD Star Bags
FIBC (Flexible Intermediate Bulk Containers)
Box Bags
Agricultural – Weed and Bug Protection
Covering of Corrugated or Wooden Boxes
Parts and Machinery Covering
Tarpaulins
Cut Sheets
Ground Cover
As scaffolding cover